Alex Zats, owner and operator of Bee Zee Collision & Service Center has been repairing vehicles since 1982, and collision repair since 1987. He is a master in his field, and is also well known as the "go-to guy" for vehicles with problematic issues that all other shops were unable to repair.
In keeping up with the times and technology, Alex and his son Adam opened a new collision and service center in Lincolnwood, IL. This new site consists of a 25,000 sq. ft. state of the art facility, which not only services and repairs regular sized vehicles, but also large vans, sprinters, trucks, motorcycles, and boats.
In his spare time, Alex enjoys "riding free" on his Harley, going to concerts, and playing with his two favorite canines, Dash and Duke. Likewise, Adam loves riding his Vespa, going to concerts and sports events , and spending time with his favorite girl, Layla (canine)!
Alex and Adam have and continue to regard all their customers as extended family, and will go out of their way to always make them happy.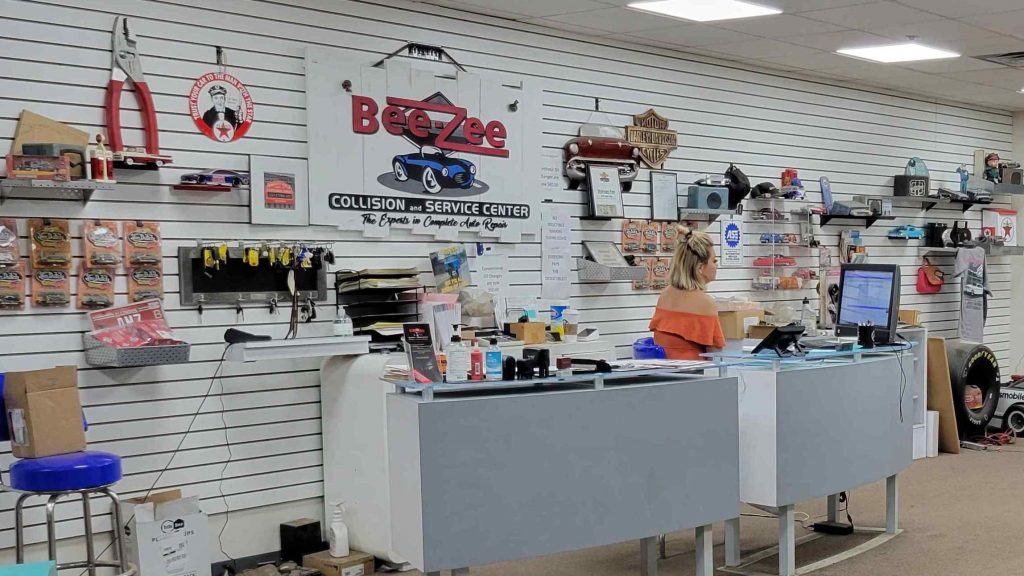 At Bee Zee Collision & Service Center, our mission is to provide our customers with the best possible service. We strive to always exceed their expectations and deliver quality repairs in a timely manner. We also aim to create a friendly and welcoming environment for all of our customers.
Our Commitment To The Environment
Bee-Zee Collision & Service Center is committed to being a leader in environmental sustainability. We only use waterborne paint in our truck and vehicle spray booths. Waterborne paint is safer for the environment because it contains fewer volatile organic compounds (VOCs).
VOCs are responsible for air pollution, and they have been linked to a number of health problems. By switching to waterborne paint, we are doing our part to reduce VOC emissions and help protect the environment.
In addition, waterborne paint dries more quickly than traditional paint, so our customers can get their vehicles back on the road sooner. We are proud to be at the forefront of this new technology, and we are committed to providing our customers with the best possible service.
Check out our 25,000 sq. ft service center in Lincolnwood.
Get In Touch With Us Today
If you've been in an accident, or your car just needs some repair work, Bee Zee Collision And Service Center is here to help. We'll be happy to help you get your car back on the road.